No grid was found for: Avatar playlist 4907 4910 4914.
A NEW CHAPTER IN NO-TILL FARMING
HORSCH have never lost sight of the products that for 30 years have been forming its reputation: the first Seed-Exactors left a permanent impression. If you go back to the beginning of the company, Michael Horsch at that time built a machine that was suitable for no-till farming.
The arguments at that time: disturb the soil as little as possible, encourage biodiversity and, of course, in the context of decreasing prices, save costs. Due to the opening of the eastern markets in the Nineties there suddenly was a large market for no-till farming equipment. However the pto-shaft driven technology could not be used for the large fields in the East.
With the experiences from the no-till sector Michael Horsch developed tine-based no-till technology for the eastern markets that is successfully sold there today. In the recent past, HORSCH thought about developing no-till technology based on disc coulters. It is not just suitable for the Latin American markets to disturb the soil as little as possible.
But also in other regions, too, the single disc coulter technology is of great interest – especially in Europe with increasing requirements in the sector of catch crops sowing to the sowing of main crops in catch crops or in regions that are faced with resistant weeds. In parts of Great Britain, Germany and France the farmers depend on new sowing technologies with reduced soil movement – a clear task for the Avatar.
The disc coulter technology plays an important role in large parts of Russia, Kazakhstan and China.
Good reasons for HORSCH to design our own Avatar line.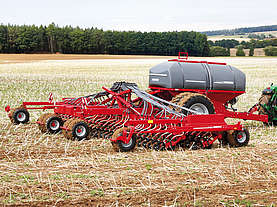 Avatar SW
INNOVATIVE, EFFICIENT, WELL-PROVEN COMPONENTS
Concept of the machine

Maximum efficiency for large farms:


Working width 12 m
Seed waggon technology from the well-proven Pronto line
Designed for highest requirements and maximum efficiency during the season

Seed waggon


Capacity of 12 000 litre for maximum efficiency
Hoppers 50 : 50 seed / seed or seed / fertiliser (application as G & F version, seed and fertiliser in one row)

Low horsepower requirement due to reduced soil movement
Manoeuvrable machine due to compact design
Low horsepower requirement due to low machine weight
Avatar SW
VERSATILE, SOLID, PRECISE
Versatile
Can be used universally from direct drilling to cultivated soils

Metering of up to three individual components
Robust
High coulter pressure of up to 350 kg per individual row

Stable and maintenance-free bearings for maximum service life
Precise
Depth control at the individual coulter

Closing wheels can be adjusted in an optimum way for the most different site conditions
| | |
| --- | --- |
| Working width (m) | 12.00 |
| Transport width (m) | 4.36 |
| Transport height (m) | 5.28 |
| Length (m) | 11.65 |
| Weight (kg)* | 19 160 |
| Seed hopper capacity double hopper (l) | 12 000 (50 : 50, per 6 000 l) |
| Feed opening double hopper (m) | per 0.99 x 0.72 |
| Filling height double hopper (m) | 3.34 |
| Number of seed coulters | 60 |
| Coulter pressure seed coulters (kg) | 350 |
| Seed coulter Ø (cm) | 48 |
| Closing wheels Ø (cm) | 33 |
| Depth control wheels Ø (cm) | 40 |
| Row spacing (cm) | 20 |
| Tyre size seed waggon | 650 / 65 R 38 |
| Tyre size seed unit | 400 / 60 – 15.5 |
| Working speed (km/h) | 6 – 15 |
| Power demand (kW/hp) from | 205 / 280 |
| DA control devices | 3 |
| Depressurized return flow (max. 5 bar) | 1 |
| Oil quantity hydr. fan (l/min) | 60 – 80 |
| Adj. drawbar linkage | Ring hitch Ø 58 – 79 mm |
| Ball-type linkage | K 80 |

*Weights of the machines in minimum equipment
SD (SINGLEDISC) COULTER
VERSATILE, ROBUST, PRECISE
Versatile
Suitable for all sowing conditions

Direct seed
Mulch seed
Conventional tillage
In standing catch crops
Stony soils
Very heavy, clayey soils

Closing wheels for safe closing of the seed furrow for all sowing conditions

Rubber or steel version for the adaption to the soil conditions
Standard angle adjustment of the closing wheel

Aggressive for no-till farming or on very heavy soils
Passive on cultivated or very light soils

Press wheel in the row guarantees optimum firming of the seed at the bottom of the furrow
Two different tools for an optimum embedding of the seed at the bottom of the furrow:

1. Uniformer (standard):

Safe fixing of the seed in the furrow
Flexible use
Ideal when sowing into green catch crops

2. Press whell in the row (option):

Safe emergence even in dry conditions
High reliability even in very wet conditions due to integrated parking position for the press wheel; the press wheel then is moved away from the working range
Robust
Coulter pressure (up to 350 kg per coulter) is created via the well-proven rubber torsion system

No wear
No pivot points
Acts as a shock absorber (shocks from the coulter are not transferred to the machine)

Coulter pressure adjustment can be carried out manually at the machine or, as an option, from the terminal
Long-life, maintenance-free bearings on all turning components for highest longevity and reliability
Seed boot with carbide wear edges for increased service life and for safe scraping of earth from the seed disc even in most difficult conditions (cohesive soils, wet soils)
Precise
Stable depth control wheel for exact depth control of the coulter in changing or difficult soil conditions
Wide depth control wheels in combination with a coulter pressure of max. 350 kg guarantee an exact placement of the seed in all sowing conditions
The interaction of single disc coulter and seed shoe guarantees a safe opening of the furrow while at the same time harvest residues are removed from the furrow = optimum contact of seed and soil for quick and safe emergence
Press wheel in the seed furrow for optimum seed-soil contact of the grain
Finely graduated seed depth adjustment without tools
Finely graduated seed depth adjustment without tools
Solid monitoring sensors for seed and fertiliser