PERFECT SEED ON EXTREMELY HEAVY SOILS
What are your requirements for the new seeding technology?
Precise seed placement – as even germination increases yield potential.
High seeding speed – as perfect timing is essential.
Tolerance for seedbed conditions – as flexibility saves money.
How does the Pronto achieve such even germination?
Rotary harrow reliably produces fine earth even on the heaviest soils
Target consolidation with packer systems that are adapted to the site guarantee optimum sowing conditions and a contact of the seed furrow to the water
The mounting of the TurboDisc coulters allows for vertical adjustment movement of up to 15 cm and ensures precise contour following. All seeds are placed exactly at the specified depth.
4 rubber elements / coulters release a pressure of up to 120 kg, sufficient to reliably keep them in the ground at high speed.
The rubber wheel at the coulter-end ensures precise seed depth and proper seed-to-soil contact.
Concept of the machine
Universal range of use after plough and for mulch sowing even on extremely heavy soils.
Seed unit and seed waggon are a self contained unit. Thus, the machine is very compact and, due to the missing axle of the seed waggon, much weight is transferred to the rear axle of the tractor. Thus, it is possible for the first time to pull a 6 m wide seed drill with rotary harrow with low horse power requirement and low slippage.
Single hopper with a capacity of 2 800 liter for a long range
Intensive cultivation due to p.t.o.-driven rotary harrow.
Effective consolidation in front of the seed coulters is made by a steel roller, the Cracker packer.
Precise seed placement due to TurboDisc double disc coulters.
Rotary harrow
Drags itself into the soil and constantly
maintains the adjusted working depth.
| | |
| --- | --- |
| Working width (m) | 6.00 |
| Transport width (m) | 3.00 |
| Transport height (m) | 3.50 |
| Length (m) | 7.27 |
| Axle load (kg)* | 3 900 – 4 600 |
| Support weight (kg)* | 3 700 – 4 500 |
| Tyre size chassis | 550 / 45 – 22.5 |
| Seed hopper capacity (l) | 2 800 |
| Number of seed coulters | 40 / 48 |
| Coulter pressure seed coulters (kg) | 5 – 120 |
| Seed coulters / press wheels Ø (cm) | 34 / 32 |
| Row spacing (cm) | 15.0 / 12.5 |
| Packer (cm) | FarmFlex packer Ø 55 cm / Cracker packer Ø 54 cm / Tooth packer roller Ø 53 cm / Trapeze ring roller Ø 50 cm |
| Working speed (km/h) | 6 – 13 |
| Horsepower requirement (kW/hp) | 160 – 240 / 220 – 330 |
| DA control devices | 2 |
| Oil quantity hydr. fan (l/min) | 20 – 25 |
| Depressurized return flow (max. 5 bar) | 1 |
| Lower link linkage | Cat. III – III / IV – IV |
* Weight of the machines unloaded with minimum / maximum equipment
PACKER
Packer – efficient consolidation
Targeted and homogeneous consolidation in front of every seed coulter
Efficient consolidation below the seed horizon allows for guiding the water to the seed grain in an optimum way
4 packer versions for an optimum adaption to the conditions of the site:

FarmFlex packer: profiled consolidation for medium and humous soils
Cracker packer: intensive crushing effect on medium and heavy soils
Tooth packer: universal packer for the most different soil conditions or heavily changing soils
Trapeze ring packer: high crushing and consolidation effect on medium and very heavy soils; perfect shaping of the seed furrow in front of the seed coulter
ROTARY HARROW
Packer – active seedbed preparation
Actively driven seedbed preparation for the different requirements of the site
Targeted control of the cultivation intensity in the seedbed by adapting the operational speed and the rotational speed of the rotary harrow (standard 234 or 306 rpm)
Solid and massive gear units and power trains for highest strains in the field
Tines can be changed without any tools
Targeted control of service life and working effect: tines are arranged in a dragging way for seedbed preparation on intensely cultivated sites:

Standard tines
HM tines (steel-clad for high service life)
HM+ tine (extreme wear protection with carbide technology derived from the cultivator sector)
Tines on grip for aggressuve cultivation of hard soils

Integrated pivoted frame for more precision – the angle of every half of the machine can adapt independently to the terrain
Working depth can be adjusted independently of the seed depth; the rotary harrow is connected via a parallelogram
Spring-loaded side cover for clod retaining
Trapeze ring roller for targeted consolidation in front of every seed row
Carrier for changing tines without any tool
Carbide coated scraper guarantee high operational reliability
Smooth, precise metering rotors
Press-wheel-controlled exact harrow
Chassis tyres 550 / 45 – 22.5
Hydraulic coulter pressure adjustment is available as an option.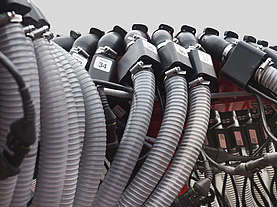 Simple calibration
Quick and precise calibration
Stop slide Pronto single hopper version